Auf der Record Release Party wird die CD "flashes of a pretty face" nach dem Motto "Pay What You Want" verkauft. Wir empfehlen 10 Euro, freuen uns ehrlich über jeden, der zu egal welchem Preis, ein Album erwirbt. Bei einem Vorschlag unter 3,67 (das entspricht den reinen Herstellungskosten) fangen wir aber eventuell an, Euch ein schlechtes Gewissen zu machen.
Ab dem 1. Dezember kann das Album hier auf der Webseite digital und als CD erworben werden. Für den digitalen Download gilt dann auch "Pay What You Want", die CD wird hier 12 Euro inklusive Versand kosten. Für Sammelbestellungen, ausgefallene Lieferorte oder andere Wünsche, schreibt eine Mail.
———
The album will be sold at the record release party for a price of your choosing. From December 1st on in can be ordered online for 12 Euros (including shipping. Unless you live in a region where shipping costs stardust. In that case we will work something out with you) or digitally downloaded again for a price that is to your liking.
———
Wer sich für die Details dieser Produktion interessiert, kann sich, während er sich diesen Song anhört, die Details durchlesen.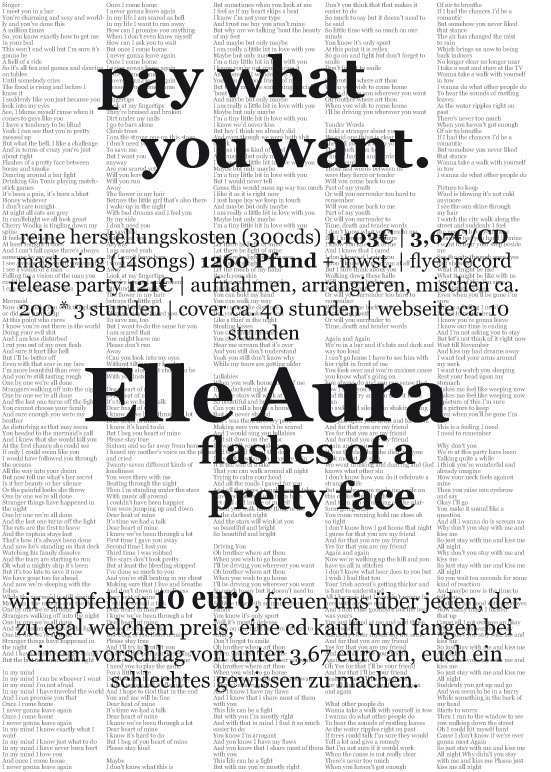 Tracklist
1 Picture to keep
2 In my mind
3 Why don't you
4 Mermaid
5 Again and again
6 Singer
7 Driving You (Brother)
8 Dear heart of mine
9 What other people do
10 Fingertips
11 Maybe
12 Prayer
13 Tender Words
14 Lullabies
All songs written by Elle Aura except "What other people do" written by Phillip Soanes and "Prayer" written with Victoria Batz
Arranged and produced by Jan Schrecker & Robert Kapp
Mastered at Abbey Road Studios London
Cover photography and design by Ellen Thießen
(c) 2013, parkdrei 008